NOTE: You have reached our old web site. We have developed a new web site using Weebly.com. We are in the process of moving our domain name over to the new site. In the mean time, to access our new web site, and the latest information, please click on this link. As of September, 2021, we are no longer updating this web site. We will leave it up for archival purposes as long as possible.
ALSO NOTE: We are no longer using GrantPress. We have moved to a new grant application and tracking program Grant360. Do not submit any information using GrantPress. For more information on this transition, please email Martina at fhladmin@thuntek.net.
Thanks – Rick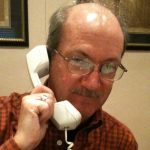 Hi, I'm Rick
Along with a dedicated crew of board, staff, and consultants, I run the Frederick H. Leonhardt Foundation. We're based in Albuquerque, New Mexico. We're a small, private family foundation.
My grandfather, Frederick H. Leonhardt (Fritz) started the Foundation. The Foundation was incorporated in 1953 and received its non-profit status in 1955. My father, also Frederick H. Leonhardt (Fred), ran the Foundation back in the 1970s and 80s. I took up the reins in 1999. I'm also Frederick H. Leonhardt, but not a III. Why? Well, I share my grandfather's middle name, which is Henry. My Father has a different middle name, which is Haakon. So, technically, I'm a II. Family lore holds that my grandmother insisted that my father have a middle name that starts with an "H" so that the initials on the luggage would not have to be changed.
My grandfather, and later my father, ran Fritzsche Brothers, which became Fritzsche, Dodge & Olcott in 1963. Fritzsche Brothers was an essential oils, flavors, and fragrances company that often provided ingredients to such companies as Coca-Cola and Avon. So, yes, my family was into essential oils before essential oils were cool.
Welcome to our web site. Hopefully you will find the information you are looking for. And maybe you'll have a bit of fun along the way. Use the menu items above to navigate to an area of this web site that may be of interest to you. Enjoy!
PS – If you'd like to read a more detailed Foundation Legacy Statement from our previous web site, click on the link you just passed. Enjoy!